Your key to maintaining 
a healthy
Jira environment
Your key to maintaining 
a healthy
Jira environment
Quick error detection, even quicker fixes. Accomplish and sustain a healthy Jira configuration—forever.
Quick error detection, even quicker fixes. Accomplish and sustain a healthy Jira configuration—forever.
Assessed for scale
24/5 support
Reliability checks
Protect & monitor Jira configurations
Keep your configuration consistent and efficient by identifying and resolving configuration errors across the entire Jira instance.
24/7 integrity maintenance
Improve productivity and workload by detecting errors in all configuration elements and their references.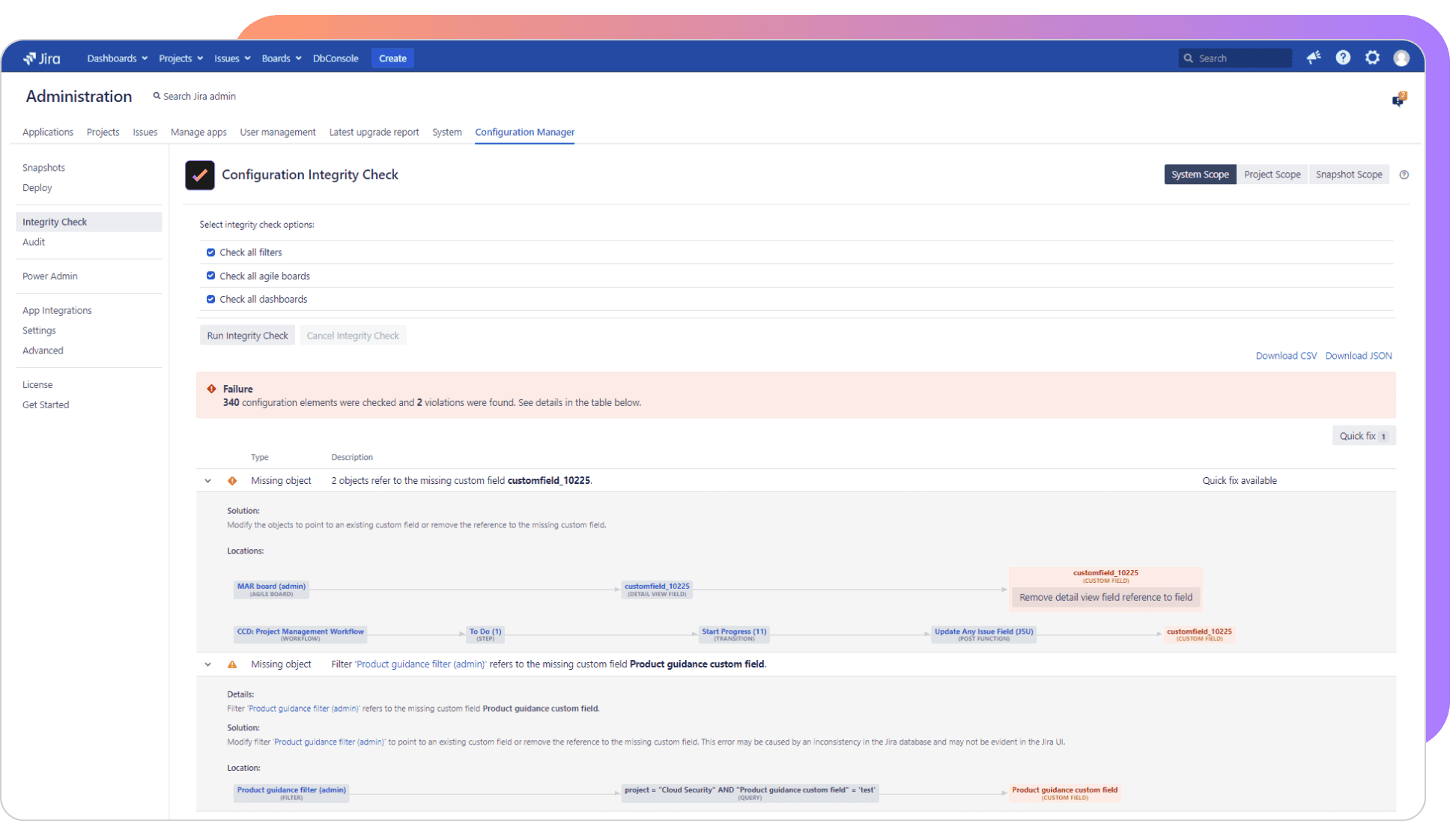 "Quick fix" in one-click
Use path links to navigate directly to each error or each configuration element from the error chain. Apply all available quick fixes simultaneously with a bulk "quick fix."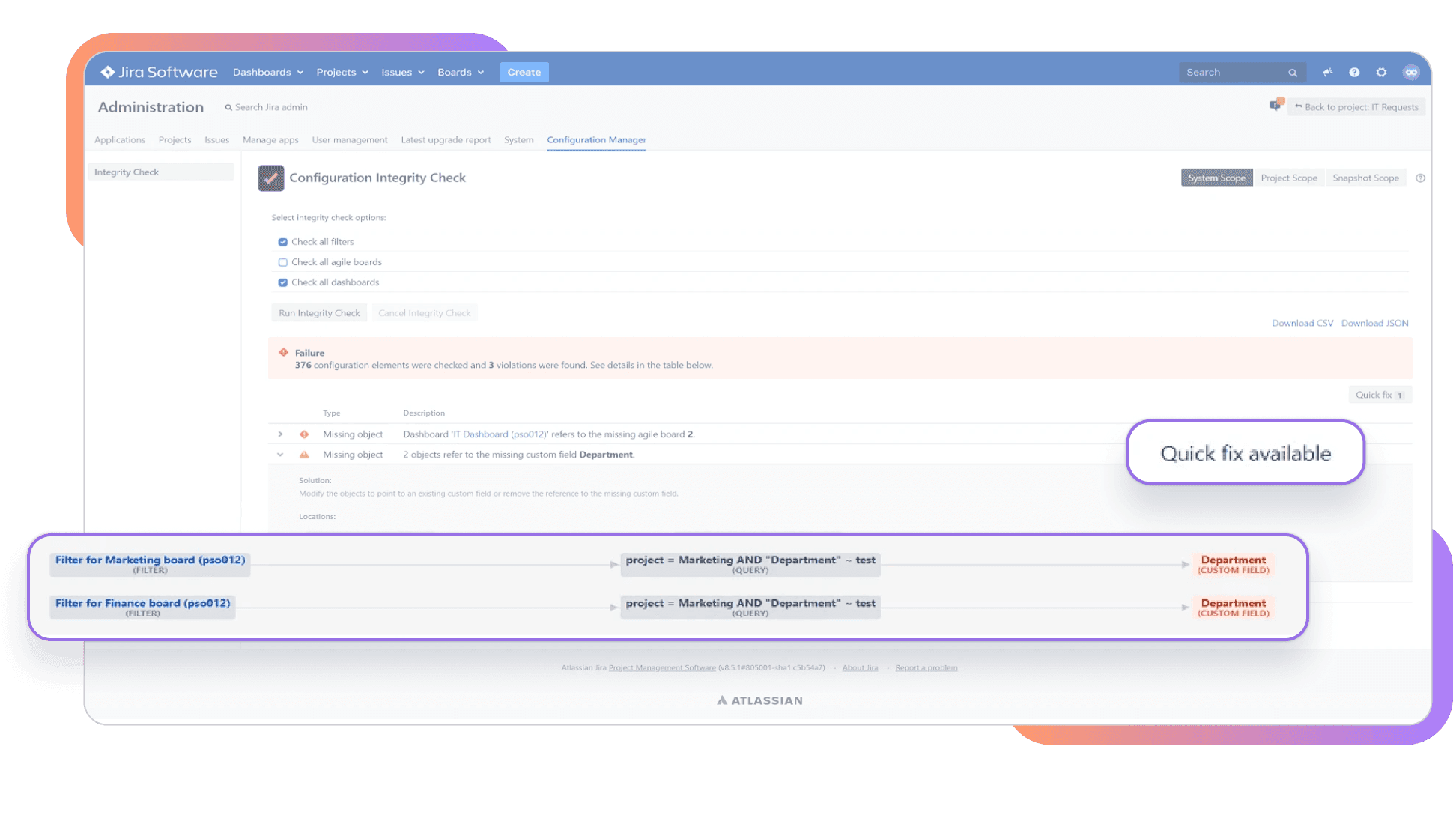 Choose the integrity check scope
Reduce time and effort when dealing with thousands of projects by choosing how to run an integrity check - for selected projects(s) or for the entire system.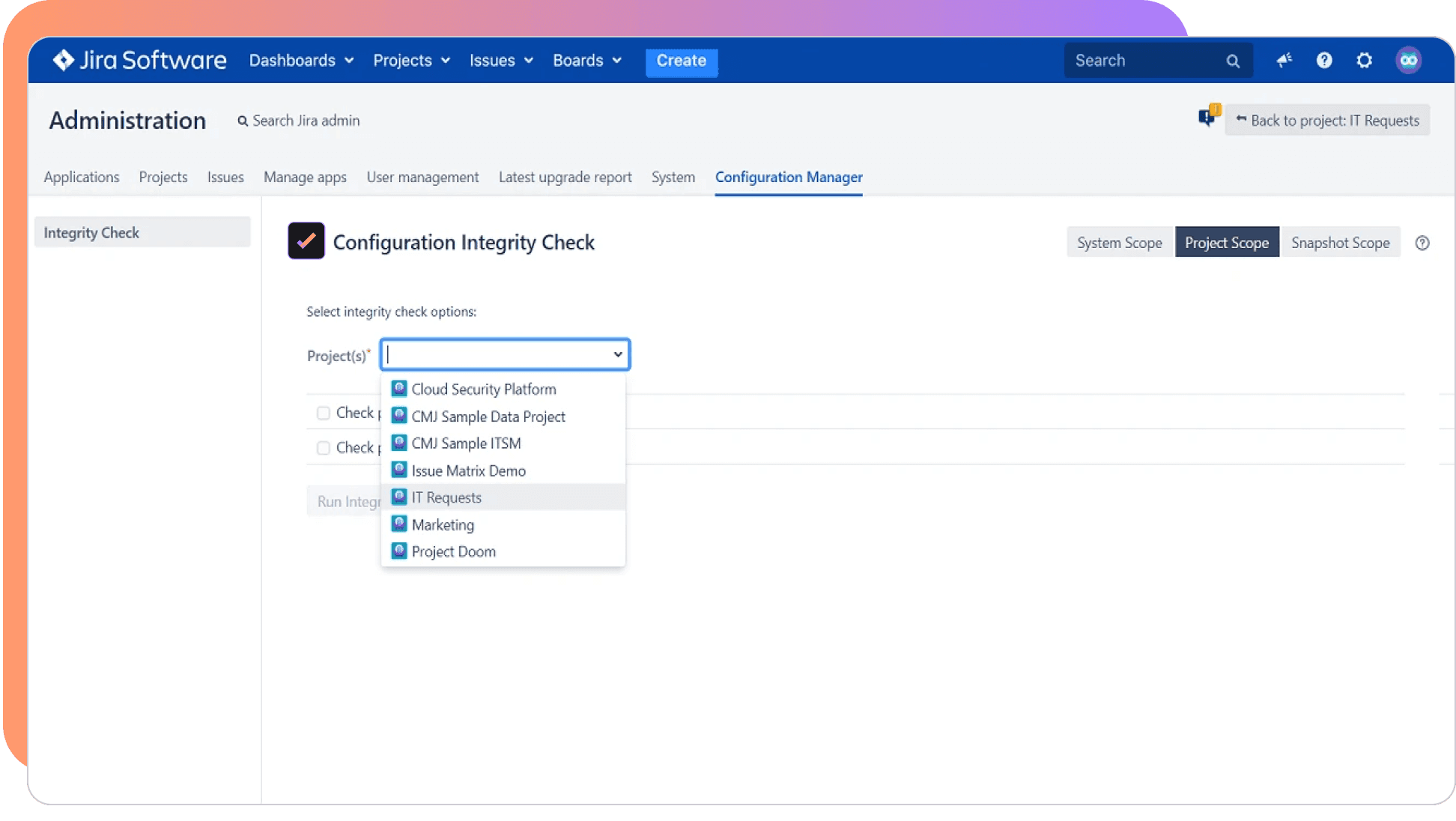 Rest API
Automate system checks and get the reports in JSON/CSV.
Download CSV or JSON files
Download CSV or JSON files with all integrity check violations. Useful when reporting. It gives opportunity for scanning all agile boards, filters and dashboards in Jira.
Detect different integrity error types
Identify references to an extensive range of missing objects in the configuration, like missing custom fields, groups, users in workflows, groups in project roles, etc.
Quick fixes/bulk fixes
Both safely and automatically resolve errors.
"Great tool, helps a lot to identify non-working filters, dashboards, etc."
Roland K.
"It checks boards, dashboards, filters for missing references, etc, and provides hints to fix them. It helped us to fix little glitches in the system, especially in user-created filters and dashboards."
Stefano C.
"Nice, Add-on. Helps me to find Problems in my shared issue searches when I remove/Change custom fields."
Alexander P.
Build your perfect Jira error-fixing combo
Configuration Manager for Jira (CMJ)
If you need the complete Jira migration and configuration management tool, CMJ is the solution. Integrity Check for Jira is included in the app, so there is no need to spend additional resources on two separate products.
Learn more
Power Admin for Jira
Pair up Integrity Check for Jira with Power Admin for the ultimate pre-migration check-in and clean-up. Identify and remove broken configurations in your source, archive unused projects or data, and clean up your instance before the migration. 
Learn more