Jira Misc Workflow Extensions (JMWE)
All-in-one Jira
workflow automation
All-in-one Jira
workflow automation
Customize Jira workflows the way you want it. No-code, point & click configurations with powerful scripting capabilities.
Customize Jira workflows the way you want it. No-code, point & click configurations with powerful scripting capabilities.
Cloud fortified
Assessed for scale
24/5 support
Reliability checks
Unlock the full potential of Jira's workflow engine
Get the power and flexibility to customize Jira workflows – the way you want it.
Large slate of extensions
Rapidly build and configure your workflows your way with an ever-growing suite of no-code workflow extensions that go well beyond native Jira functionality.
Coding for the non-coders
Discover a more efficient, less error-prone way of scripting. Instead of writing lines and lines of code, you simply use snippets – easy to read and understand – to extend your workflow rules.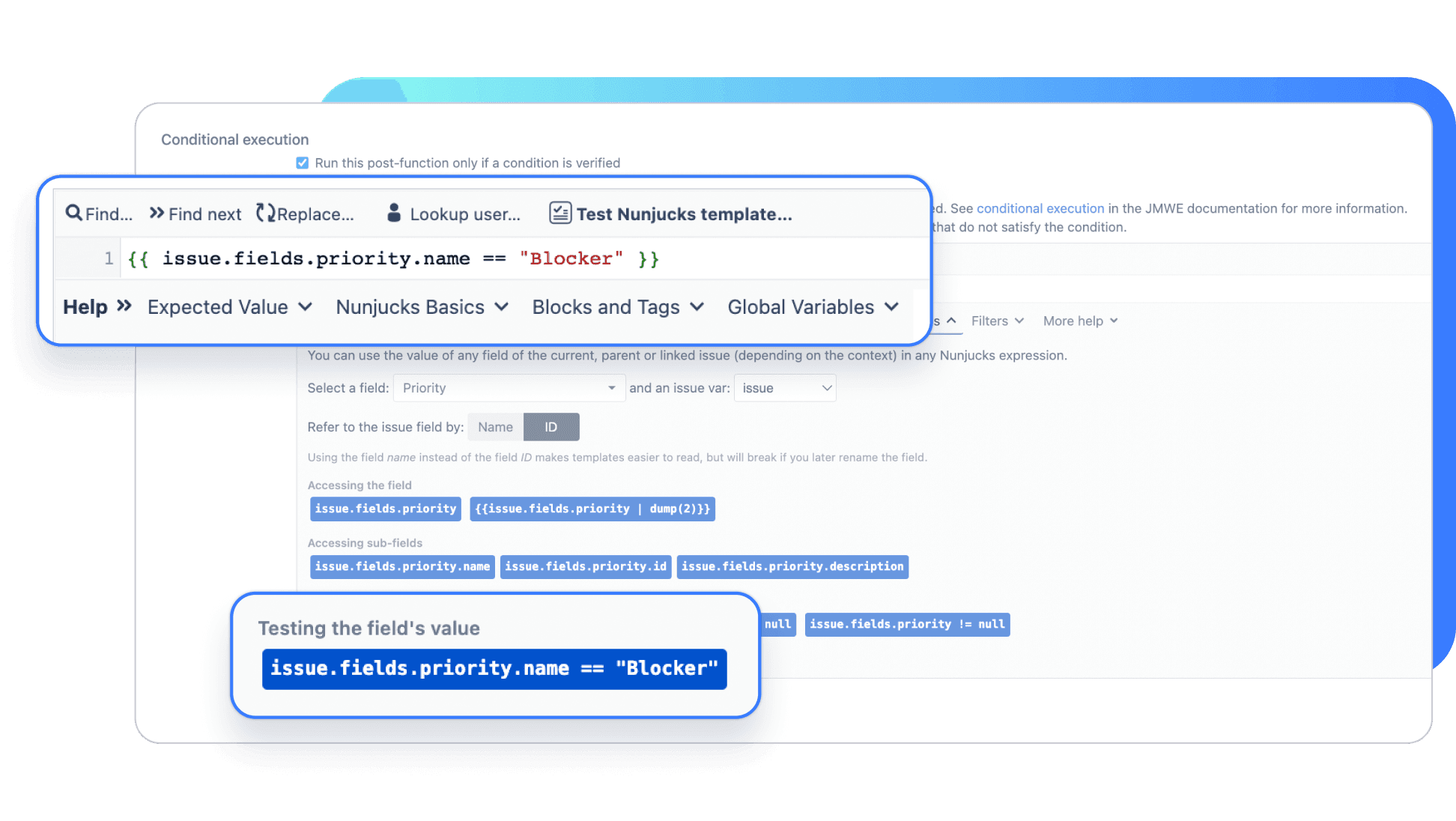 Automate beyond Jira
With Event-based Actions and Scheduled Actions, you can run any of the JMWE post functions – or sequences of post functions – outside of Jira workflows. Trigger automation based on elapsed time, issue field value changes, or new comments.
Manage at scale
Using Shared Actions, your most common workflow extensions (even from native Jira and third-party apps) can be quickly reused across multiple transitions and projects.
Point and click extensions
JMWE's extensive collection of built-in, entirely no-code workflow extensions—including post functions, conditions, and validators—is easy to use and saves time.
Event-based actions
Instead of depending on issue transition to kick-off automation, JMWE can be triggered by events such as field updates, comments, links, or attachments added.
Simplified script editor
Thanks to the smart, interactive help system, and built-in script tester, even non-coders can click their way through scripting to deploy advanced, bug-free workflows.
Scheduled actions
Create automations to run at set times on selected Jira issues in your instance – useful for sending out email updates or escalating tasks.
Shared actions
Quickly re-use common workflow extensions – including scripts – across multiple transitions and projects to greatly simplify maintenance.
JMWE admin page
Your single point of reference for all JMWE workflow extensions. View detailed statistics including execution history, troubleshoot errors, and more.
"JMWE (and its sibling JMCF) are two apps that should be part of a well-balanced diet of apps in the Jira world. These tools let me do things that would be either difficult or even impossible, and they make it easy to do some esoteric things."
Mike R.
"I'm not much of a Groovy code guy, so the prefilled clickable examples and their descriptions help a lot, and if I've ever been in a jam and can't get it right, the support always helps."
Steve L.
"I have been using JMWE for more than five years (both server & cloud). Needless to say, JMWE is the greatest app !! Its additional based events launch its functionality into Spaces :)"
Ramonde Z.
Build the perfect workflow automation combo